Swift and crucial response offered by a SMART Transportation Division member to a woman in distress on a passenger platform in South Florida Feb. 15 likely resulted in life-saving action by the Tri-Rail conductor.
Thomas E. Baker, a member of Local 30 at Jacksonville, Fla., and an employee of Veolia Transportation, noticed a 65-year old woman collapsed and lying on the transfer station platform.
He scrambled to reach her and discovered that she had no pulse and was not breathing. Without hesitation, he began performing CPR for more than 15 minutes until emergency medical service personnel arrived. The EMS personnel indicated that, because of his actions, Baker was able to successfully revive the woman and maintain her weak pulse, ultimately saving her life.
"This was a call to duty and I can only hope that someone would do the same for me or my family members if the situation ever arises," Baker said.
Baker learned his CPR skills in the U.S. Air Force, where he served five years and nine months. He is a Gulf War veteran and participated in Operation Desert Storm. He then worked in Southern Florida law enforcement for more than 15 years. In 2010, he joined Veolia Transportation as an operations supervisor and was promoted to conductor two years later.
He said that this incident is proof that CPR training really does save lives.
On March 28, in recognition of his heroic deed, the South Florida Regional Transportation Authority (SFRTA) presented Baker and two custom protection officers with its first ever "distinguished service awards" at a meeting of the authority's governing board. The agency said the awards are inspired by transit heroes who have gone above and beyond the call of duty to protect and aid Tri-Rail passengers.
In presenting the award, SFRTA Chair Commissioner Steven L. Abrams praised Baker and the two CPO officers saying, "These three heroes are indicative of the quality and caliber of the men and women who serve our Tri-Rail passengers every day. We are honored to have them as part of the SFRTA team."
Congratulations, and well done, Brother Baker.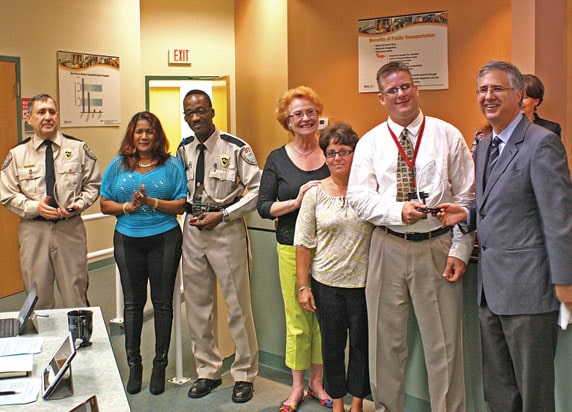 SMART?Transportation Division Local 30 conductor Thomas E. Baker, second from right, is presented a crystal "distinguished service award" by South Florida Regional Transportation Authority Commissioner Steven L. Abrams, far right, for his life-saving action in performing CPR on a passenger in distress. Also honored at the ceremony were G4S Custom Protection Officers James Errante and Lester Anderson, who removed a gunman from a Tri-Rail train. In the process, Errante was shot twice and Anderson was severly bitten by the suspect.