COVINGTON, Va. — The Jackson River, a tributary of the James, meanders east through the hollows of west-central Virginia. Flowing under CSX tracks in Covington, some 200 miles west of Richmond, the Jackson is only about two-feet deep — which partially save the life of UTU Local 623 member Alvin (A.J.) Boguess.
Partially, because Boguess would not today be alive save for the caring, daring and speed of his UTU brother, Dale Smith, who likely was the fastest human on earth the evening of Feb. 8 as he galloped down a steep embankment and dashed into the partially frozen water to aid Boguess.
Boguess, age 24, had tumbled some 55-feet from the bridge into the river, just after dark, in 19 degree temperature with the wind whipping at 20 mph.
With assistance from engineer and BLET member Chad Burdette, Smith pulled the badly injured Boguess to safety on the bank.
The three were working a shoving movement into a Westvaco paper plant when Smith, initiating a job briefing, lost radio contact with Boguess.
"I lost my foreman," Smith radioed to Burdette, who stopped the train. Smith, followed by Burdette, began walking the tracks back to the trestle, when Smith spotted the yellow safety vest clinging to Boguess in the dark water below.
"Emergency. Emergency. Emergency. Man in river," yelled Smith, age 48, to CSX dispatchers via his radio as he broke into his gallop down the embankment and through the thick brush.
Barely moving, Boguess managed to keep his head above the water for the several minutes before Smith and, then, Burdette arrived.
Airlifted to a Roanoke hospital, some 60 miles south, Boguess' body temperature had dropped to a life threatening 96.5 degrees. Smith was taken to a closer hospital by ambulance, treated for slight hypothermia and a knee injury, and is now back at work.
Boguess, an American warrior who had returned in August from a tour in Iraq, had been called back to work just a few weeks earlier. He is now in rehabilitation at Community Hopsital of Roanoke — his wife and mother by his side each day and evening — and is expected to make a full recovery.
"Don't call me a hero," Smith pleaded. "A.J. is my brother. He would have done the same for me."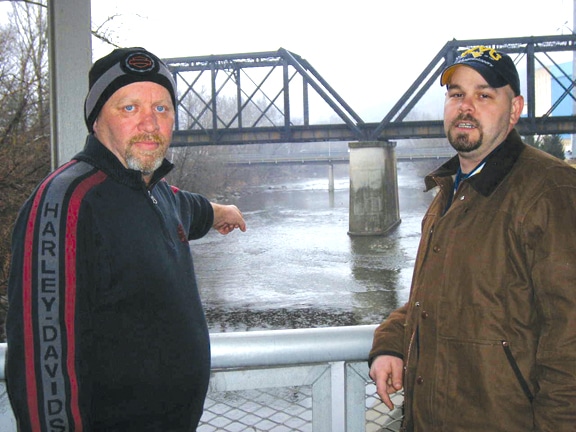 UTU condcutor Dale Smith points to the spot below a CSX bridge where he pulled his UTU brother Alvin "A.J." Boguess to safety from the Jackson River. At right is Local 623 (engineers) Chairperson Travis Thornton.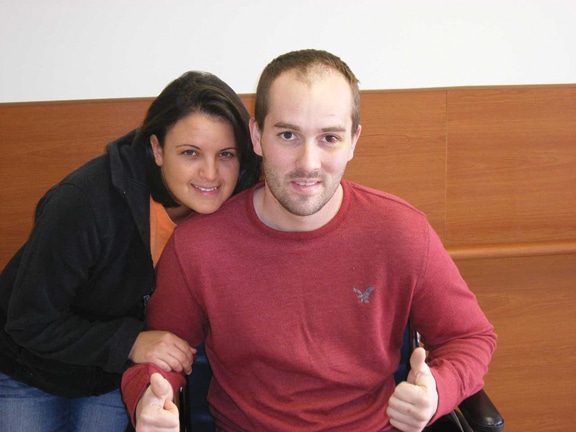 Alvin "A.J." Boguess, his wife Shannon at his side, gives "thumbs up" from his hospital room where he is recovering.