WASHINGTON, D.C. — SMART Transportation Division President Jeremy Ferguson told members of the U.S. House Subcommittee on Railroads, Pipelines and Hazardous Materials June 14 that freight railroads' unchecked lust for profits is placing the safety of workers and the public at risk while causing further disruption to the nation's transportation system.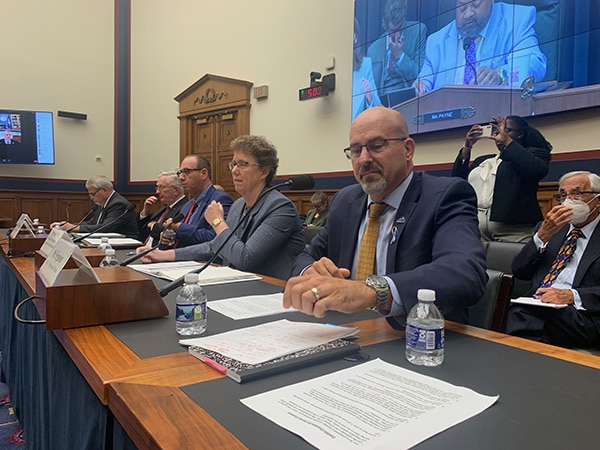 "The rail carriers are hell-bent on risking further injury to their employees as well as the American public and supply chain infrastructure by reducing or eliminating altogether the two crew members that control train movement in the cab of the locomotive," President Ferguson said after detailing the accidents and injuries suffered by members in the period after he assumed leadership of the union. "Safety is not, nor should it ever be, negotiable.
"I assure you, accidents are occurring on short lines and yard jobs that operate with less than a two-person crew, but the rates and/or trends cannot be identified because the information is not captured," he said. "In other words, the railroads have no idea what would happen if they reduced crew size, but it's a gamble they're willing to take for the sake of satisfying their insatiable appetite of improving their companies' bottom line."
Among the perils — a "steady, consistent and frightening trend" of railroads during their adoption of Precision Scheduled Railroading (PSR) of chopping their workforce, lengthening trains and focusing solely on profits at the cost of safety and service, Ferguson said. As a result, institutional knowledge also is walking out the door, leaving what was once "the premier blue-collar job" in the country struggling to find workers thanks to carriers' adversarial measures toward employees, such as BNSF's"Hi-Viz" attendance policy.
Statistics show that from 2020 to 2021 accidents and employee injuries both increased, Ferguson said. PSR's penchant for long trains also has made workers' jobs more difficult and less safe — increasing in-train forces that complicate train operations and exceeding the working range of hand-held radios. Communities are not immune from the effects as well — blocked crossings have disrupted local traffic patterns and hampered emergency services.
"Make no mistake, it's railroad greed that I believe that has caused this committee to call us to be here today," President Ferguson said. "I'm on record saying that the railroad industry is going to end up like Boeing. It's not just the accidents that I'm referring to. It's the lack of oversight and concern for the railroads' constant capitulation to outside pressures that are creating the biggest dangers.
"I am not sounding the alarm here. I am screaming into the bullhorn for help," he said. "If left unchecked, it's my members who will end up maimed or killed, and it is America's supply chain that will end up collapsed."
Of note, in the panel featuring President Ferguson and other members of rail labor, only a single Republican had a question for the panel President Ferguson was on. It was not directed toward a labor representative.
Others testifying in the first panel Tuesday included FRA Administrator Amit Bose, who spoke on rail worker fatigue, long trains and the effects of PSR on Class I operations, and National Transportation Safety Board Member Thomas Chapman.
Additional witnesses on President Ferguson's panel included Roy L. Morrison of the Brotherhood of Maintenance of Way Employes Division; Don Grissom of Brotherhood of Railway Carmen Division; TCU/IAM; transportation consultant Grady C. Cothen, Jr.; Nathan Bachman of Loram Technologies; and Norfolk Southern COO Cindy Sanborn who also represented the Association of American Railroads (AAR).