SMART members from across the United States and Canada gathered in Washington, DC on April 25th and 26th for the North America's Building Trades Unions (NABTU) 2023 Legislative Conference. Throughout the week, workers and elected union leaders came together to push for legislation that prioritizes union members, as well as hear from elected officials, industry stakeholders and others.
The April 25th plenary session began with a keynote address from NABTU President Sean McGarvey, who introduced and emphasized the 2023 conference theme: "Empowering the Infrastructure Generation." Unprecedented investment — spurred by pro-worker federal legislation like the Bipartisan Infrastructure Law, the CHIPS and Science Act, the Inflation Reduction Act and more — is creating tens of thousands of jobs and sparking the renewal of America's infrastructure. This presents opportunity for the workers of today and tomorrow, McGarvey said, and it's vital that unions push for legislation like the National Apprenticeship Act to ensure we can train the workforce to meet demand and bring workers of all backgrounds — rural, urban, women, people of color, the formerly incarcerated, veterans and more — into unions like SMART.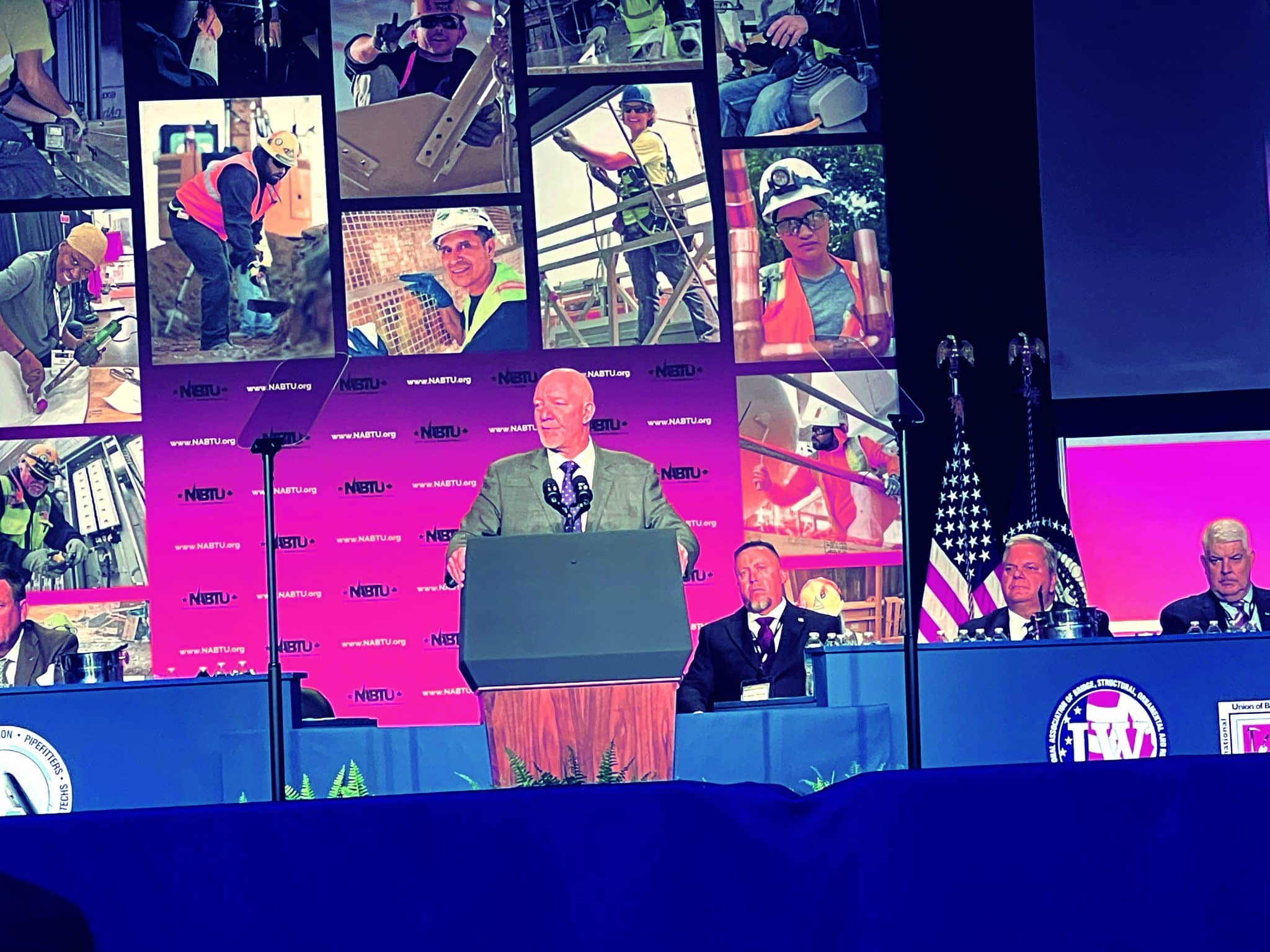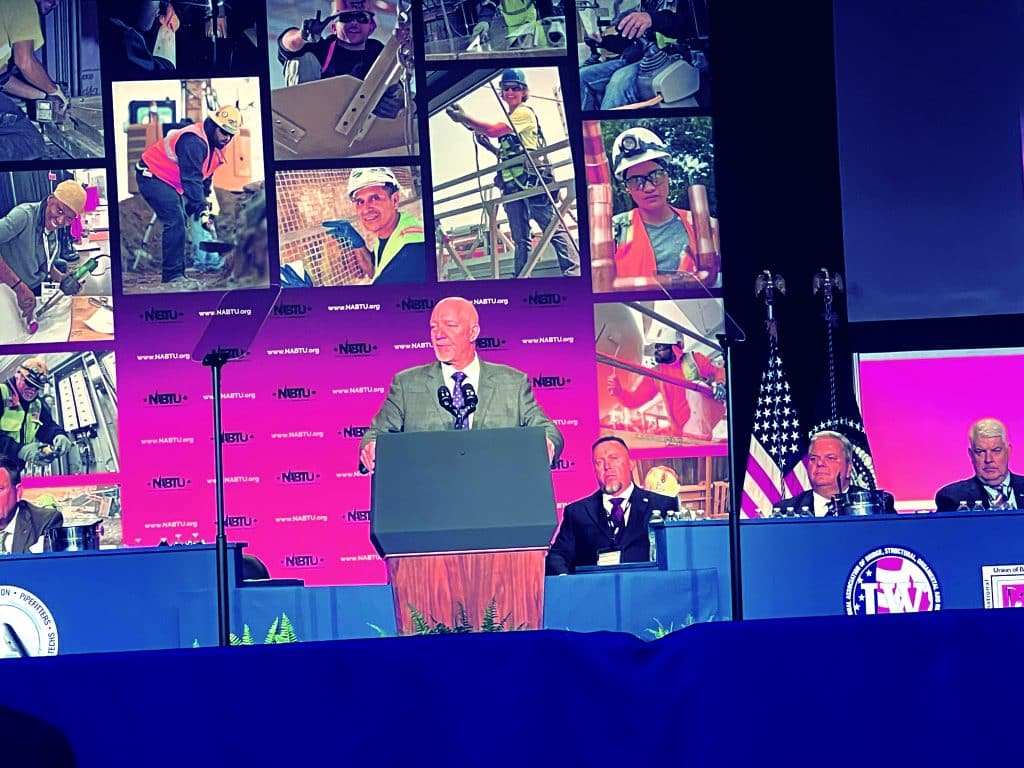 "Our model makes sure workers aren't just trained for a project, but equipped with the highest skillsets for a long and meaningful career," McGarvey explained. "This is our time to make sure we are building the opportunity pipeline to maximize private investment with public dollars and reach communities large and small."
McGarvey was followed by various pro-worker officials, including former Labor Secretary Marty Walsh, Illinois Governor JB Pritzker and Wisconsin Senator Tammy Baldwin. Walsh discussed his time working with the Biden administration and the importance of making our voices heard in the halls of power — and the need to spread the word about how pro-labor elected officials are benefiting working families.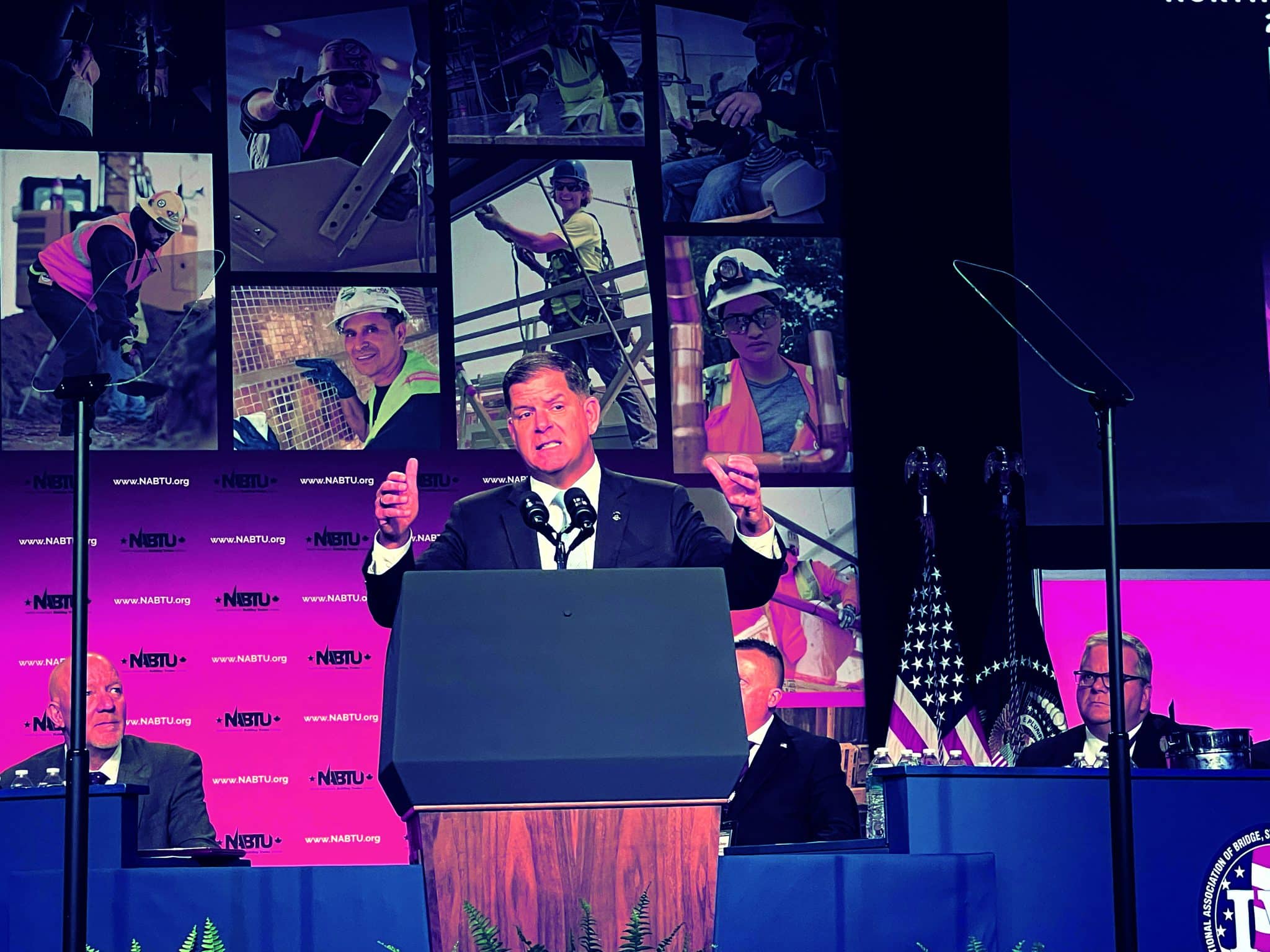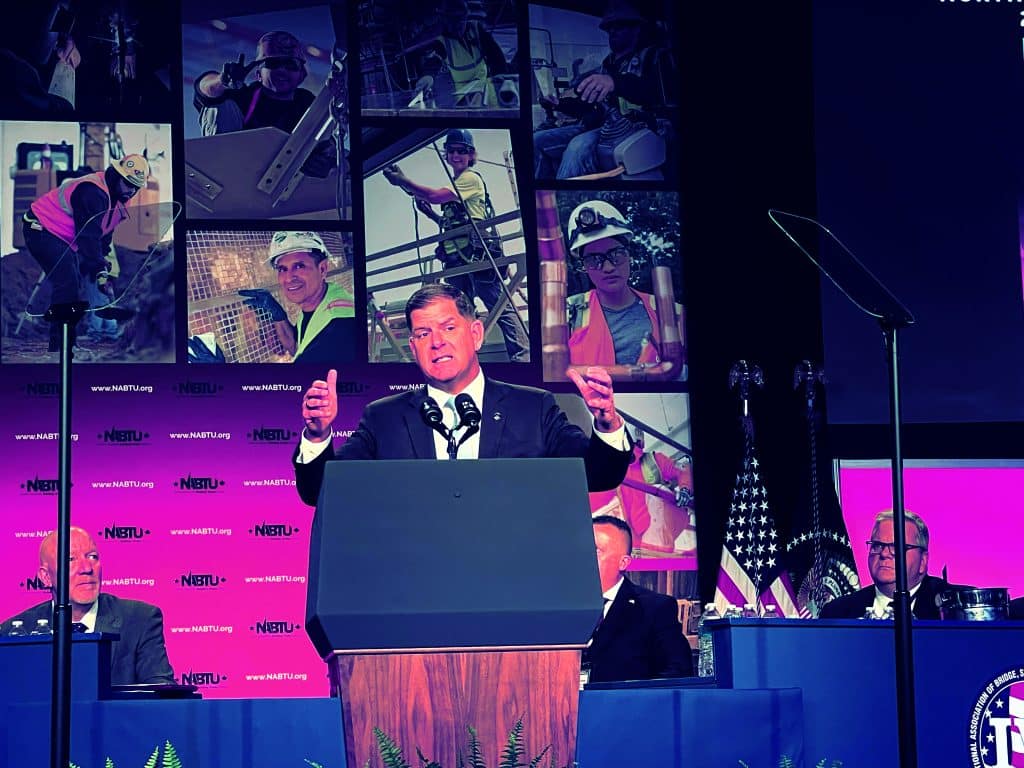 "Who you vote for has consequences," Walsh said. "This is how we restore and expand access to the middle class in this country: through good, union jobs."
Following Walsh, NABTU attendees were joined by Governor Pritzker, who has overseen a transformative pro-worker shift in the Prairie State — including the passage of the Workers' Rights Amendment, project labor agreements on more than 1,000 construction projects, a $50 million Illinois Works pre-apprenticeship program and the passage of the Climate and Equitable Jobs Act, a pro-worker clean energy law that covers climate infrastructure projects with project labor agreements.
"Workers' rights are gaining strength," Pritzker declared. "Supporting workers' rights is about investing in Illinois' most precious resource, our nation's most precious resource: our people."
Wisconsin Senator Tammy Baldwin has been a steadfast advocate for the union apprenticeship model, recognizing the potential unions have to lift workers of all backgrounds into the middle class. She explained the continued significance of union apprenticeships as policy and technology shift the way the world works, and declared to NABTU attendees her intent to continue the fight to reauthorize the National Apprenticeship Act.
"There's one tried and true method that has lasted and stood the test of time, and that's apprenticeships," Baldwin said.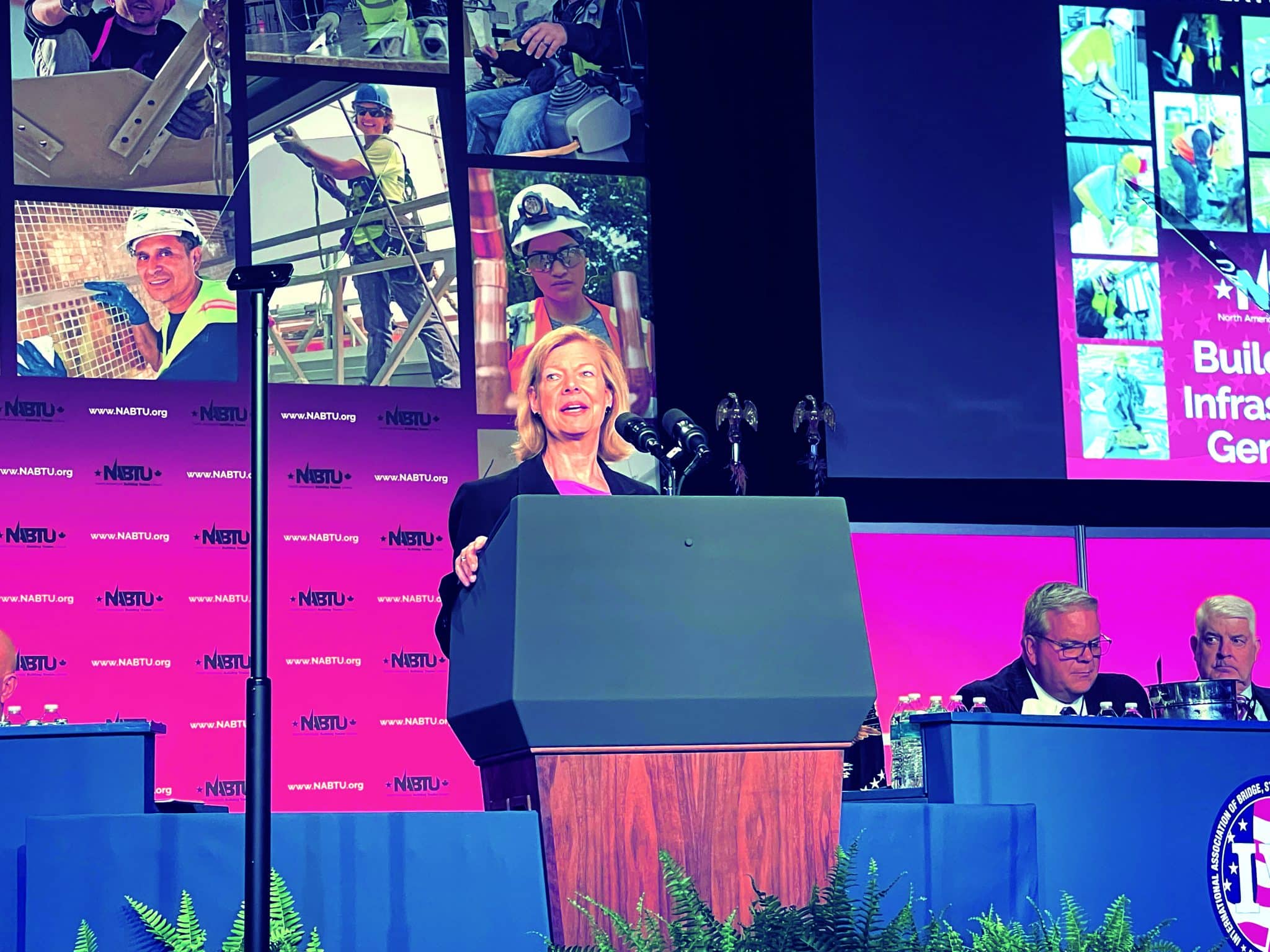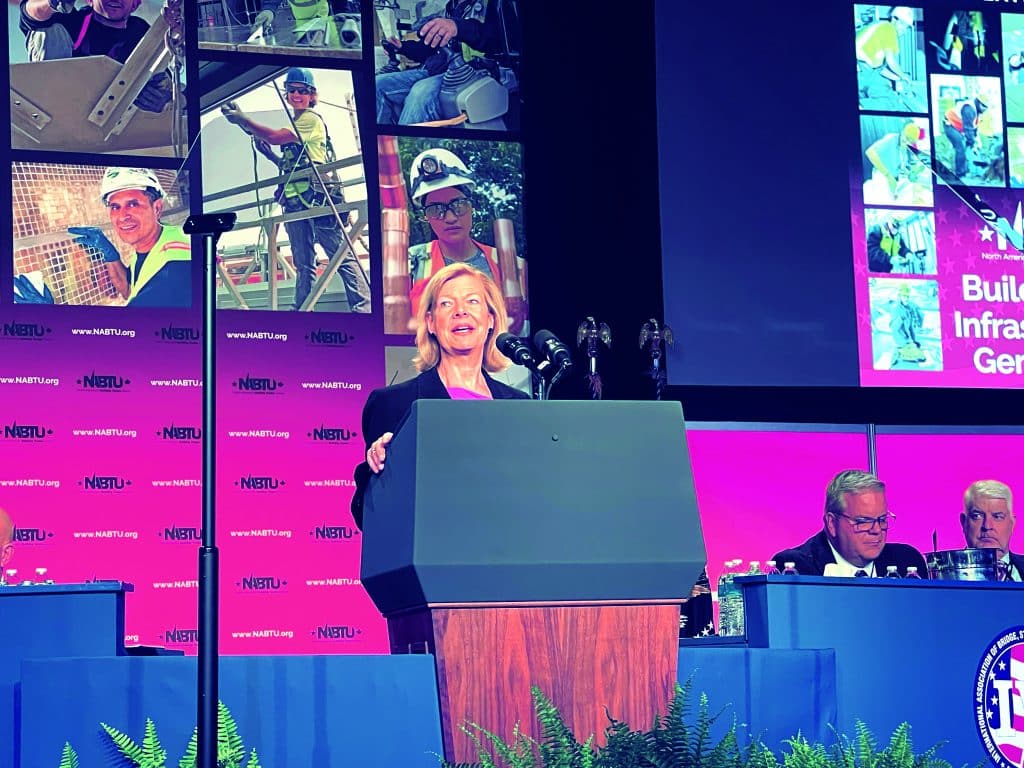 The day concluded with a fiery address from President Joe Biden, who took the stage hours after announcing his intent to run for reelection. Throughout his speech, Biden focused on the steps taken by his administration to create an American economy that grows from the bottom up and the middle out — and emphasized that "we need to finish the job."
"I learned a long time ago: There's labor, and then there's UNION labor," he declared.
Biden explained how his administration's pro-worker agenda has led to the passage of laws including the American Rescue Plan, the Bipartisan Infrastructure Law, the CHIPS and Science Act and the Inflation Reduction Act. Together these laws helped protect multiemployer pension plans; invested heavily in HVAC, energy efficiency, production, transit, rail infrastructure and other SMART sectors; created more than 800,000 manufacturing jobs; capped insulin copays at $35 per month for those covered by Medicare; and much more. The president also referred to his executive order requiring project labor agreements on federal projects that cost more than $35 million — a policy that amounts to an investment in union labor.
"I've said it many times: Wall Street didn't build America. The middle class built America, and unions built the middle class," Biden said.
"For decades, trickle-down economics hollowed out the middle class. America rewarded wealth, not work. … As jobs were lost, something else was lost as well: a sense of pride, a notion of who you are, a sense of self-worth, earning your way," he added. "My economic plan is a blue-collar blueprint to rebuild America, and that's what we're doing: rebuilding America."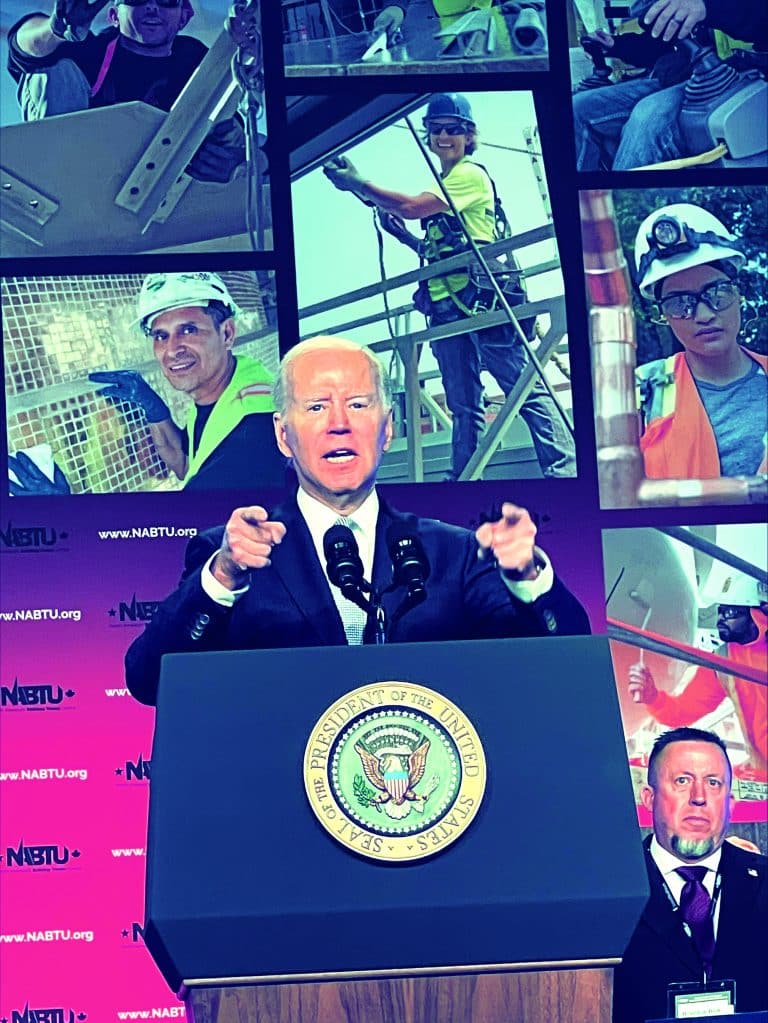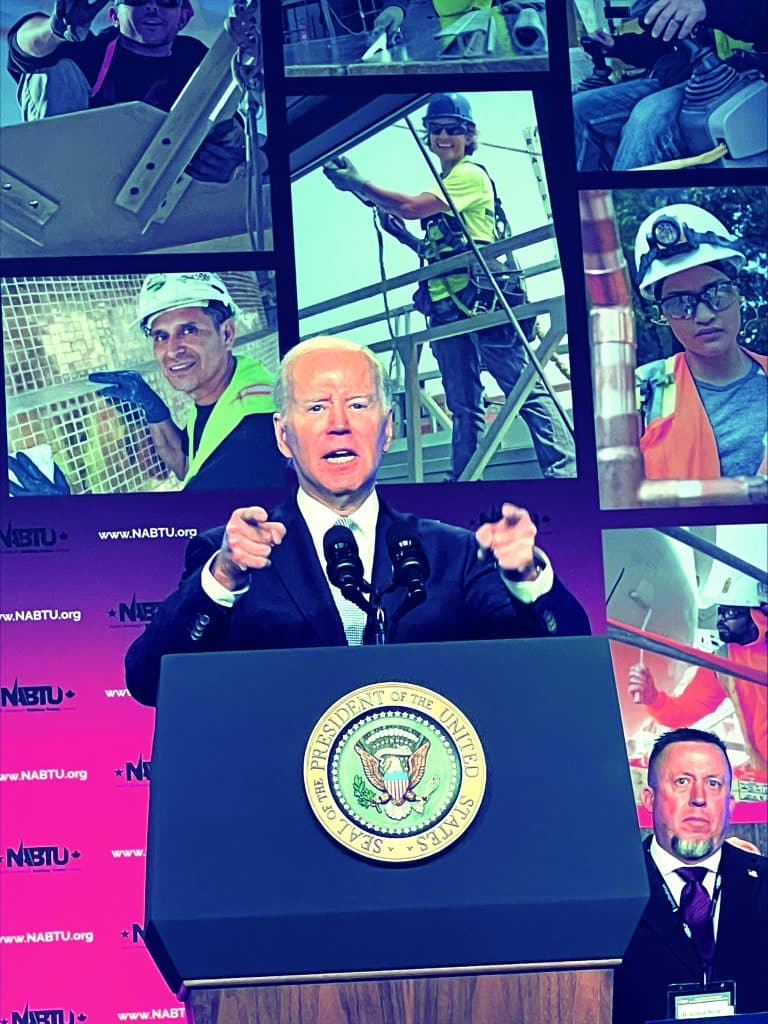 The April 26th plenary saw remarks from a range of bipartisan speakers, including Rep. Nikki Budzinski, Republican Congressmen Don Bacon and Brian Fitzpatrick, Senator Raphael Warnock, Senate Leader Chuck Schumer and others. Once again, the focus was firmly on the future — and how unions like SMART need to ensure we meet the workforce demands of this moment for generations to come. From making sure people of all backgrounds have pathways into union apprenticeships, to passing legislation that helps fund ever-evolving apprenticeship and pre-apprenticeship programs, now is the time to secure our future
"Thank you for building the strongest and most robust country in the world," Bacon said during his speech. "You deserve fair wages for a hard day's work; pension when you retire and safety at work."
"You are at the center of America," Warnock added during his remarks. "We need to hear your voices and countless efforts you've made to build this country. As you continue beating that drum, I will keep looking for every opportunity I can to stand up and protect our working people."
Following the speaking agenda, SMART members joined representatives from the rest of the building trades on Capitol Hill to lobby for legislation that benefits our members.
"SMART has proudly gathered with our fellow building trades unions at the annual NABTU Legislative Conference for decades, and in recent years we have seen first-hand how conditions for workers have changed under the Biden administration," SMART General President Michael Coleman said. "We will continue to work with pro-labor allies and push for policies that put our members to work."