On the first day of the first-ever SMART Leadership Conference, Transportation Division President Jeremy Ferguson updated hundreds of SMART officers on the progress his administration has made in strengthening our union since his administration took office in 2019.
It was President Ferguson's first opportunity to address a large, live assemblage of the union since the Second SMART General Convention in Las Vegas.
"We have accomplished so much together, much more than I ever imagined, with the new bonds that we have made and the promises to the delegates that we would unite this entire union for the betterment of all of our members," he said.
He noted that the administration has made some rapid and meaningful progress, even with the challenges the membership as a whole has faced since 2019. He emphasized strides made in safety with the online Safety Condition Report introduced in early 2021, education and an accountability to membership.
Education-wise, the change from the old regional meeting model to a leadership summit such as the one in San Francisco and the regional training seminar models for a more locally-oriented experience was a shock to some, but the feedback has been largely positive from those who've attended.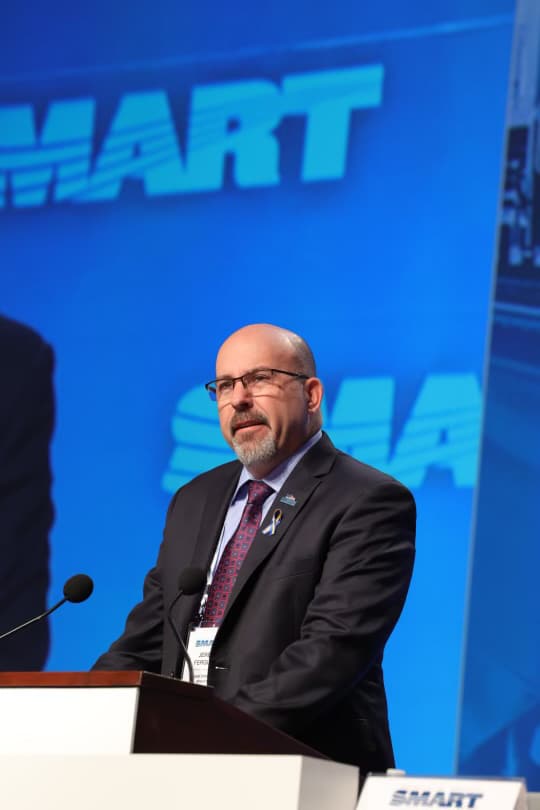 "It was not easy to break from previous tradition, but I was adamant that we train to be the best. This week we are going to teach many important skills and values needed to be the best. We are going to lead the next generation to be better and more skilled than we are here today," he said. "We are going to give them advantages that we were never afforded. That's what true leadership does, they make it better for their successors."
He noted that the years since his administration took office have been anything but normal.
"It's been one challenge after another from court cases and other crises. There's rail carriers' implementation of PSR [Precision Scheduled Railroading] and refusal to reward their essential workers with a meaningful contract, brutal assaults on our bus and transit members, the supply-chain meltdown that's followed, the exodus that is happening with good loyal workers being ground down by attendance policies and choosing to walk away from their hard-earned pensions just to have time with their family," he said.
"Times have gotten tough here lately with such drastic shortages of bus drivers and railroad workers, but when things get tough, I know that the one thing we're not afraid to do in the face of adversity is to show up and step up. We're not fearful of the challenges that we see ahead after what we've been through."
President Ferguson later in the day addressed a Transportation Division general session consisting of about 200 general committee and state board officers in attendance.
In it, he updated the audience on Presidential Emergency Board 250, saying that labor's performance had the carriers on their heels. The railroads' case essentially boiled down to "labor's being greedy."
"There's no union on the outside. We've all got each other's backs," he said of the United Rail Unions, who pooled resources and stated labor's case as a unified body before the PEB in July. "It is the best we could have done."
Other topics included the in-progress relocation of the TD executive offices from North Olmsted, Ohio to a new site in Independence, Ohio. When the move is complete, that relocation will save a projected $2 million for the union over the new 10-year lease.
He urged officers to promote the benefits offered internally through the union, such as the TD Voluntary Short Term Disability and Discipline Income Protection programs rather than job insurance programs run by outside entities.
The cost of DIPP will decrease, effective Oct. 1, and more reductions will come in the future if the number of contributors to the program goes up.
"The more people we get in the fund, the lower we can go," he said of the DIPP.
To close, the organizing department has been reinvigorated with new documents and an enthusiastic squad of people telling new hires why being a member of TD is the right choice. Chief of Staff Jerry Gibson heads up the department that has been inundated with new hires. "All our hard work is starting to pay off," President Ferguson said.