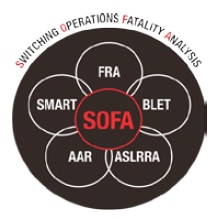 The Switching Operations Fatality Analysis (SOFA) Working Group issued an alert late last week in response to three rail fatalities that have occurred since early March.
Two of those incidents resulted in the loss of life of SMART-TD members — Taj Ellis and Buddy L. Strieker — and occurred during shove movements.
The third incident occurred on Pan-Am Railways in Newington, N.H., on May 19 when a worker was fatally injured while attempting a coupling on a curve.
"While these recent cases have not yet been analyzed, the SOFA Working Group is concerned by the three fatalities that have already occurred during 2021 and reminds all employees to remain vigilant during switching operations by not only protecting shove movements, but also protecting themselves by avoiding close or no clearance hazards. Last, but not least, remember to hold a job briefing whenever the job or situation changes," the group said in its alert.
A flyer of the alert to print and share is available.