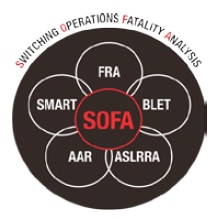 The FRA's Switching Operations Fatality Analysis (SOFA) working group recently released two new documents — one on the importance of job briefings and the other a safety alert following three switching accidents that have occurred since August.
In the safety alert, SOFA warned, "the SOFA Working Group is concerned by the 159 injuries that occurred this year through August 31, 2020, and reminds all employees to remain vigilant during switching operations by not only protecting the shove movement, but also protecting themselves by avoiding close or no clearance hazards. Last, but not least, remember to always hold a job briefing whenever the job or situation changes."
Click here to read the full safety alert. 
In their "SOFA Lifesavers – Why Job Brief?" notice, SOFA details the importance to perform job briefings and points out that one in five switching operations fatalities lacked an adequate job briefing.
Click here to read SOFA Lifesavers – Why Job Brief?
The Switching Operations Fatality Analysis working group was formed by the Federal Railroad Administration in the early 1990s in an effort to analyze switching accidents and prevent future accidents and fatalities. The group consists of representatives from the FRA, labor and management.
Click here to visit SMART-TD's SOFA page where these and other SOFA documents are available.