ST. PAUL, Minn. – Amtrak inaugurated service to Union Depot in St. Paul May 7, effective with the arrival of the Empire Builder from Chicago. Amtrak President and CEO Joe Boardman was among several transportation leaders who cut the ribbon for the first-ever Amtrak service in Downtown St. Paul.
Officials with Ramsey County Regional Railroad Authority (RCRRA), owners of Union Depot, welcomed federal, state and local officials – and the general public – to the station in St. Paul's Lowertown, with the ticket office at Union Depot's Kellogg Entry at 240 Kellogg Blvd., E.
SMART Transportation Division Minnesota State Legislative Director Phillip Qualy was also in attendance to greet Boardman and attend the ribbon-cutting ceremony.
"The SMART Transportation Division, formerly the UTU, continues to work as a member of the Minnesota DOT's passenger rail office in support of Amtrak's Twin Cities-Chicago additional train frequencies, an Amtrak extension to St. Cloud, the Rochester Zip Line, Duluth NLX and with advocacy for regional services," Qualy said.
"As a reminder , in 2013, UTU/SMART was chief advocate for legislation passed into law that provided Minnesota's DOT with authority to contract with Amtrak and assures any new-start passenger or commuter rail service will be operated with train crew's covered under the Railway Labor Act, FELA, FRSA, and U.S. Railroad Retirement Board rights preserved and in place."
The Amtrak schedule is slightly different at Union Depot from those at that the former Midway Station between St. Paul and Minneapolis, which no longer has any public functions. The westbound Empire Builder (Train 7/27) arrives at 10:10 p.m. and the eastbound Empire Builder (Train 8/28) arrives at 8:00 a.m.
At Union Depot, Amtrak travelers can connect from more than 500 destinations to intercity buses, Metro Transit and MVTA bus services. Next month, Metro Transit's Green Line will provide additional capacity to a growing and diverse regional transportation system.
"We know from experience that travel brings business – and that stations bring business to the surrounding community," Boardman said. "While we're celebrating the fact that today the people of the Twin Cities will now have more travel choices than ever before, we can also celebrate the fact that they have a station that's also an engine – an engine of economic development for the surrounding neighborhood and historic district."
"With Amtrak, the range of transportation options at Union Depot expands opportunities for travel connections throughout the Upper Midwest and beyond. Our beautifully restored building is achieving our vision as a multimodal transit facility and a unique gathering place for people – whether they are travelers passing through, living in St. Paul, stopping in the area for business, or here to attend one of many social or cultural events this region has to offer," said Ramsey County Commissioner Rafael Ortega, chair, RCRRA.
Funding for the $243 million project was obtained from a diverse mix of federal, state and local agencies. One of the largest grants was $45.3 million allocated under Section 1301 of SAFETEA-LU, the federal transportation bill for fiscal years 2005-2009. These funds were specifically distributed to large-scale projects of national or regional significance. In early 2010, the RCRRA was awarded a $35 million Transportation Investment Generating Economic Recovery (TIGER) grant by the U.S. Department of Transportation. Forty million dollars came through the Federal Railroad Administration's High Speed Intercity Passenger Rail Program, while $4 million from the Federal Transit Administration's (FTA) Bus and Bus Facilities Program helped finance the new bus terminal. Other funds used in the project were obtained from state bonds and a tax levy imposed by the RCRRA.
"In addition to improving transportation, this project has created more than 4,000 jobs and has led to a surge in housing and retail development in St. Paul," said Karen Hedlund, Deputy Administrator, Federal Railroad Administration. "This is what we can achieve — in Minnesota and nationwide — if we continue investing in passenger rail."
"It's a great day to welcome passenger rail back to Saint Paul, and no better place to do it than the historic Union Depot—a building that would have met the wrecking ball if not for the leadership of its many champions from the County Board to the White House," said St. Paul Mayor Chris Coleman. "The Amtrak opening today and the Green Line opening in just a few weeks is proof that transportation investments are critical to economic growth and regional prosperity.
"We thank the President and Transportation Secretary Foxx for their continuing commitment to improving our roads, bridges and rail systems, and we look forward to helping them pass the next major transportation bill."
Amtrak will soon deliver a report to the Minnesota Department of Transportation (MnDOT) regarding an additional round-trip on the Empire Builder's route between St. Paul and Chicago, one of four passenger rail corridors being considered by the state.
"MnDOT is committed to be multimodal and to pursue a multimodal vision," said state transportation commissioner Charles Zelle. "We will develop a robust intrastate and interstate passenger rail system in Minnesota."
Amtrak notified previously booked passengers of the change in service locations in St. Paul prior to this morning's event, which was attended by more than 200 people. The celebration continues through this Saturday, May 10, with Union Depot hosting a National Train Day event.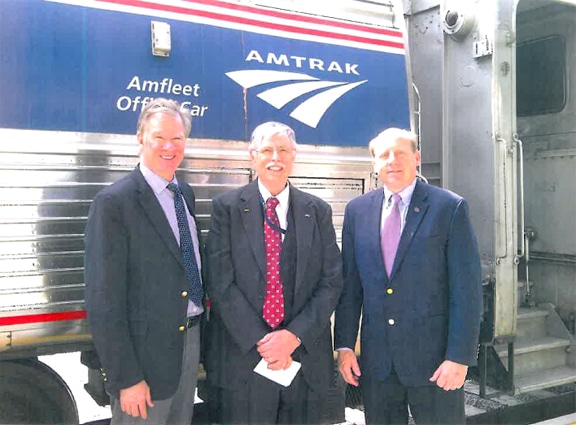 SMART Transportation Division Minnesota State Legislative Phillip Qualy, right, meets Amtrak President and CEO Joseph Boardman, center, and St. Paul Mayor Chris Coleman May 7 at the St. Paul's Union Depot.