Labor had a lone representative Feb. 1 at the House Transportation & Infrastructure Committee discussion of transportation infrastructure and supply chain challenges as it convened under new chairman U.S. Rep. Sam Graves of Missouri.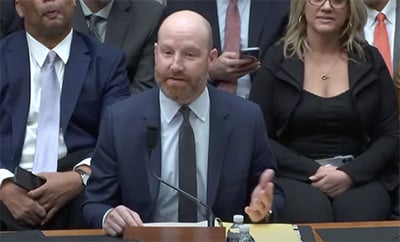 Greg Regan, of the Transportation Trades Department (TTD), AFL-CIO, a coalition that represents 37 transportation labor unions in air, maritime, railroads and trucking sectors, including SMART-TD, spoke about the recent and positive investments made by the federal government in the form of the Bipartisan Infrastructure Law (formerly the Infrastructure Investment and Jobs Act) and the CHIPS and Science Act.
"If we are serious about strengthening our national supply chain, we must also address the fundamental and structural problems that caused the crisis that cannot be solved by investment alone," Regan said.
Choices made that put profits over workers and consumers played a large role in fueling the supply-chain crisis, with the nation's large freight railroads and Precision Scheduled Railroading job cuts being prime culprits in the post-pandemic meltdown the nation endured, Regan said.
"Their decisions in the years leading up to the pandemic were not driven by better service, but rather by shareholder concerns," he said. "Even as the system came crashing down around them, freight companies continue to rake in record profits while your constituents paid the price."
For more details, see TTD President Regan's written testimony.
The video of the complete hearing is available here.
Other witnesses participating in this hearing were Chris Spear of the American Trucking Association, Ian Jeffries of the Association of American Railroads, Jeff Firth of the Associated General Contractors of America and Roger Guenther of the Port of Houston.