In 2023, political ideology factors into almost every aspect of our lives. It can dictate what news sources we tune into, what restaurants/coffee shops we spend our money at, where we choose to live, and even who we see as a "good neighbor."
All of these are unfortunate realities of the world today, but the one issue on the American landscape that has managed to transcend politics in 2023 has been railroad safety. People across the country have all been forced to wrestle with the idea of how fragile their reality is in a post-East Palestine world. This issue has been met with the same level of scrutiny and seriousness across the ideological spectrum in newsrooms and legislatures.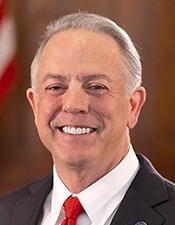 Red states like Kansas, Utah and Ohio as well as blue-to-purple states like Michigan and Minnesota have successfully put typical politics aside and dealt with rail safety issues, including 2PC, train length, defect detector mandates/regulations along with many more. Momentum and common sense seemingly have gained a foothold since train derailments have been making headlines regularly this year.
Unfortunately for all of us, much like the majority of folks who get off a plane in Las Vegas or Reno with the grandest dreams of striking it rich, rail safety's luck seems to have run out in Nevada.
SMART-TD's Nevada State Legislative Director (SLD) Jason Doering and his legislative team put in an amazing effort to push for safety through train length limitations, wayside defect detector regulations that mirrored those put in place in Ohio post-East Palestine, and provisions aimed at preventing first responders from being cut off from the communities they serve by blocked crossings. Their bill, AB 456, was successfully shepherded by Brother Doering through both the Nevada State Assembly and state Senate. After making it through both chambers, AB 456 only had to be signed into law by Gov. Joe Lombardo (R-Nev.)
AB 456 is a clean bill that isn't tied up into any other state or local issues. Doering somehow managed to avoid having amendments attached to it designed to make it unattractive or expensive for the state to pass. It was a basic question to Lombardo, "Do you see value in protecting communities and rail workers, or do you favor a gargantuan railroad's bottom line and their campaign contributions?"
This question has one clear, acceptable answer. But the answer from Lombardo given June 2 was not that answer. He vetoed AB 456 clearly and definitively, siding with corporate greed and their bottomless lobbying budgets over safety and protecting his constituents from having their towns become the next East Palestine, Ohio.
In his efforts to pass AB 456 through the Legislature, Doering was met with opposition from the Republican caucuses of both the Assembly and the Senate. In both cases he got the bill passed, but both votes fell directly on party lines. Nevada has Democratic party control in both chambers of their legislature with Lombardo, a Republican, as governor. The resulting friction in Carson City that has manifested itself in a handful of issues, particularly evident in a power struggle over the state's operating budget.
This heated and very public dispute has led to a scenario where Lombardo is not willing to protect Nevadans from toxic train derailments, in fear that it might be seen as a win for the Democrats in his state.
With political points being of great value in his war with the Nevada Legislature, the calculation is apparently that if another rail disaster happens in Nevada that no one will connect the dots to June 2, 2023, when he decided he would trade your safety for his career prospects.
It is SMART-TD and SLD Doering's intention to not allow that to happen.
Lombardo thinks that he can gamble using your life, limbs, and livelihoods as his collateral. We need to let him know that he bet wrong.
Please follow the link provided to SMART-TD's Legislative Action Center to send Lombardo the wake-up call he apparently needs. We need him to find out that we don't play politics with rail safety. All members, their families, and friends are welcome to join this effort. If you are from Nevada, let's be sure to let him know that he burnt a vote the next time he's on the ballot.
SMART-TD celebrates politicians of any party who stand up for our issues, but in this moment, we need to speak with one voice and let all of them know that we refuse to be used as a bargaining chip in petty games.
Brother Doering and the whole legislative team in Nevada fought to do right by the communities they live and work in. AB 456 and every bill in this country deserve a fair shot to be heard and have a decision rendered based on the merit of the legislation, rather than the color of the yard sign of those legislators who chose to sponsor it.