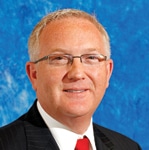 The chief executive of Los Angeles Metrolink, John Fenton, who has taken the lead among railroads nationwide in advancing, investing in and implementing positive train control (PTC), is departing after two years on the job to head the Florida-based short line holding company Patriot Rail.
Patriot Rail owns 12 short line railroads operating in 12 states over some 500 miles of track. The UTU represents employees on four of those railroads. Patriot Rail is in the process of being acquired by Steel River Infrastructure Partners, which owns and operates port terminal and storage facilities and natural gas and electric transmission lines.
The UTU also represents conductors on Los Angeles Metrolink, whose commuter trains have operated under contract by Amtrak since June 2010.
Los Angeles Metrolink, America's third largest commuter railroad, carrying 40,000 riders daily in six southern California counties, was rocked in 2008 when 25 people were killed and 135 injured in a horrific head-on crash with a Union Pacific freight train in Chatsworth, Calif. The National Transportation Board later blamed the accident primarily on the deceased Metrolink engineer said to have been texting on his cell phone and who ran a red stop signal. At that time, Metrolink trains were operated by Connex Railroad, a subsidiary of France-based Veolia Transport.
Fenton was hired as Metrolink CEO in the wake of the Chatsworth accident following a management shakeup that included, according to the Los Angeles Times, allegations of unaccounted for inventory and a sharply declining ridership.
The Los Angeles Times said that following Fenton's arrival in April 2010, safety improved markedly, on-time performance improved, ridership grew and costs were reduced. Fenton oversaw the purchase of state-of-the-art rail cars with energy absorbing technology and took the lead among American railroads in pressing ahead with PTC and a timetable to have it operational by 2013, according to the Los Angeles Times.
PTC utilizes the satellite global positioning system (GPS), wireless communications and central control centers to monitor trains and prevent collisions by automatically applying the brakes on trains exceeding authorized speeds, about to run a red light, violate a work zone or run through a switch left in the wrong position.
Safety experts said the Chatsworth accident could have been avoided had PTC been installed. In embracing PTC technology, Fenton told a congressional hearing,"We don't think there is any time to waste given the unforgiving nature of the environment in which we operate." In bitter memory of the Chatsworth disaster, Fenton and Metrolink employees wear green wrist bands with the words, "Never Again."
The Los Angeles Times quoted a safety expert at the University of Southern California's Viterbi School of Engineering that Fenton's "departure is a major loss for Southern California and Los Angeles. His safety-culture related accomplishments in such a short time, just two years, were monumental and unique in the country." Metrolink partners with the Viterbi School of Engineering on safety advances.
Patriot Rail's 12 short lines include:
* Butte, Anaconda & Pacific Railway in Montana
* Columbia & Cowitz Railway in Washington (UTU represented)
* DeQueen & Eastern Railway in Arkansas (UTU represented)
* Golden Triangle Railroad in Mississippi
* Louisiana & North West Railroad in Arkansas and Louisiana (UTU represented)
* Patriot Woods Railroad in Washington (UTU represented)
* Piedmont & Northern Railroad in North Carolina
* Sacramento Valley Railroad in California
* Temple & Central Texas Railway in Texas
* Tennessee Southern Railroad in Alabama and Tennessee
* Texas, Oklahoma & Eastern Railroad in Oklahoma
* Utah Central Railway