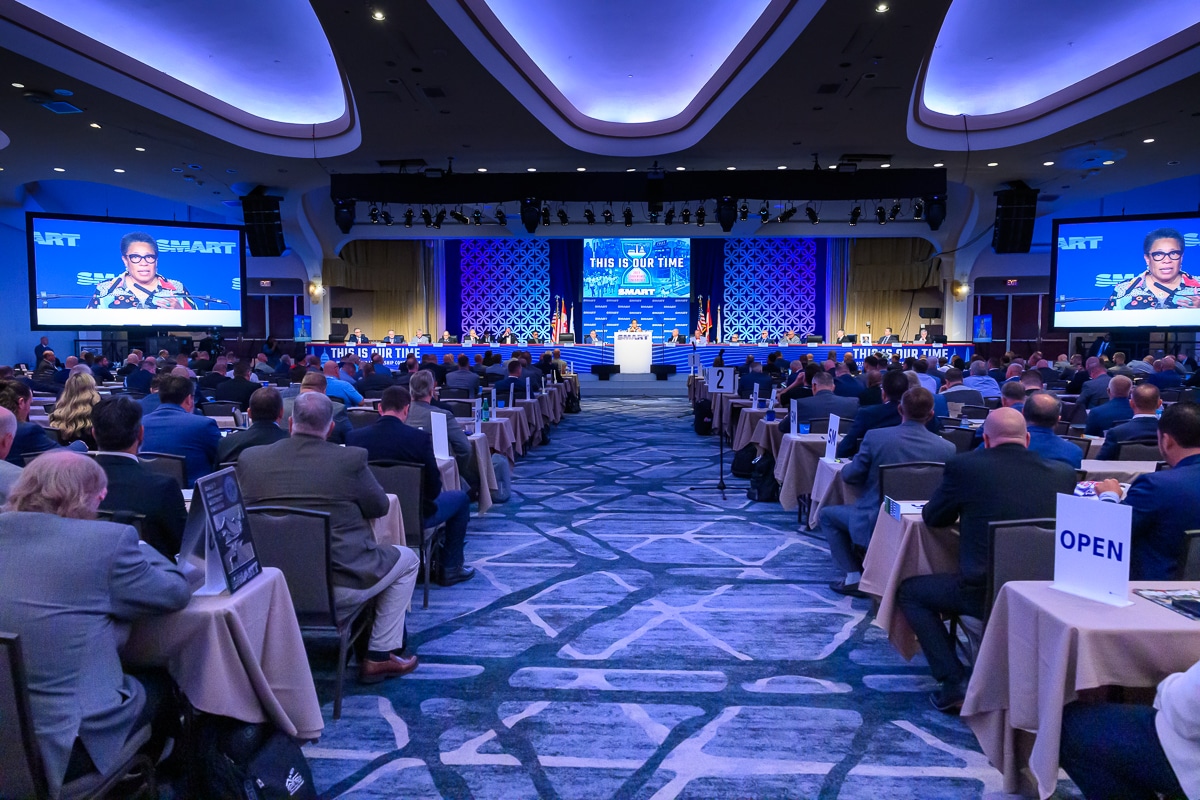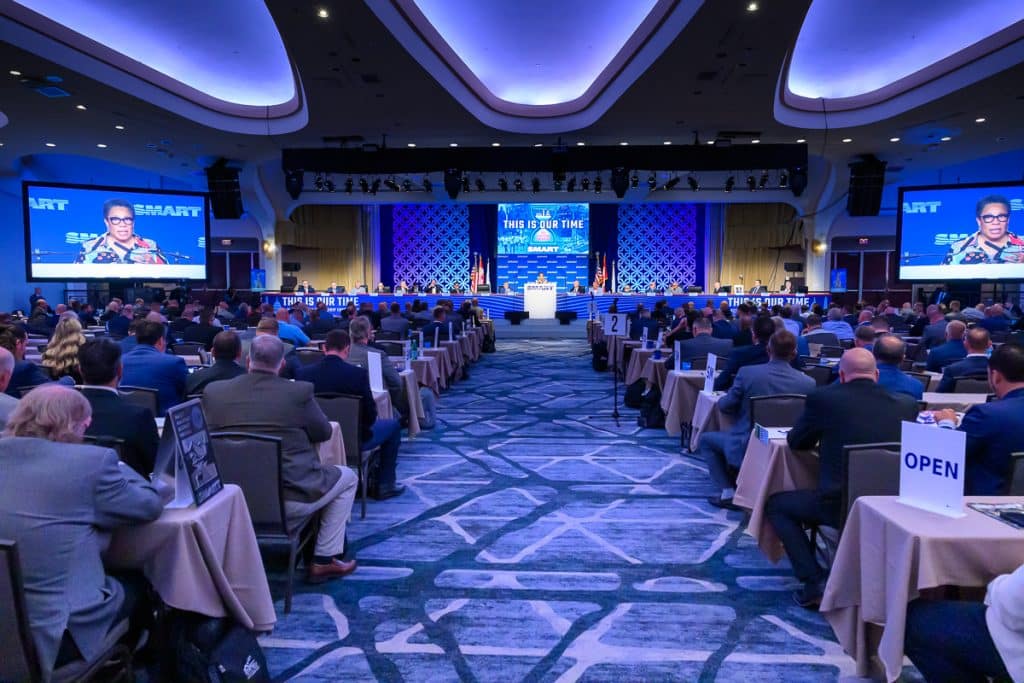 Union leaders continued the work of ensuring the 2023 SMART Leadership Conference theme – "This Is Our Time" – is more than just a catchphrase as the conference rolled into its second day in Washington, D.C.
Throughout the morning's joint session, attendees were presented with evidence that the union has strengthened both financially and in membership, and with a vast number of opportunities ahead to ensure the prosperity of our membership and our two nations.
New VP sworn in to the GEC
General President Michael Coleman began the joint session by recognizing the career of SMART Sixth General Vice President and Northwest Regional Council President Tim Carter, who retired after the conclusion of the conference's first day.
Carter oversaw extraordinary growth and progress in the Northwest, from welcoming the formation of women's committees to new organizing across the region.
Brother Carter is replaced on the General Executive Council by Ray Reasons, president and business manager of SM Local 36 (St. Louis, Mo.), who becomes SMART's 11th General Vice President.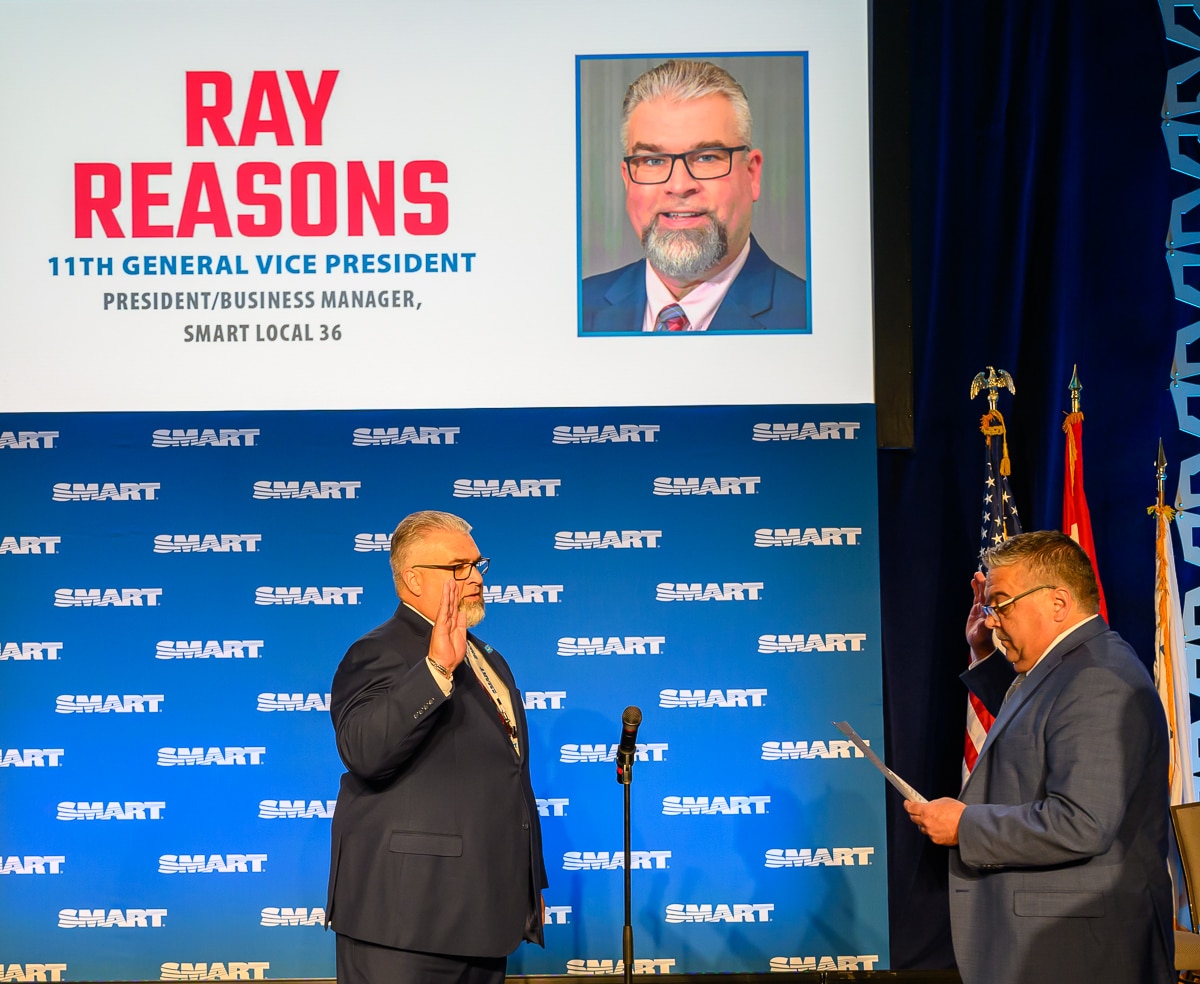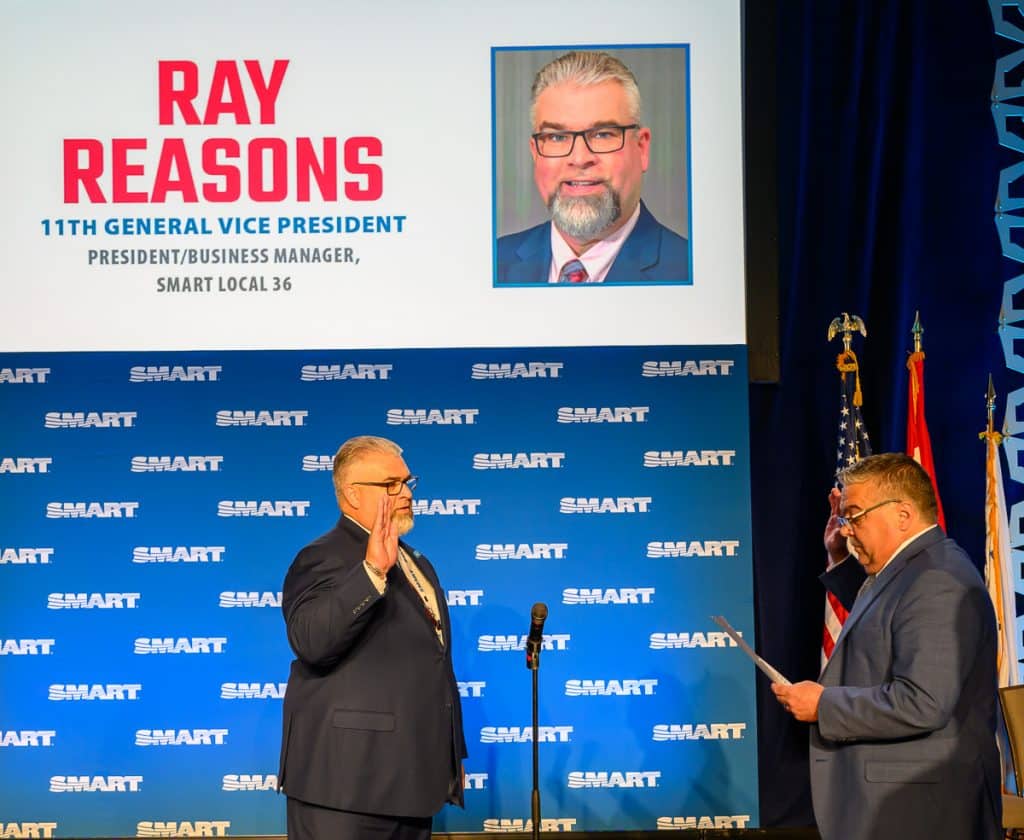 Local 36 has long been on the forefront of growth and innovation, and members there played an important role beating back a recent attempt by state politicians to institute so-called "right to work."
"Under his leadership, Local 36 has continued its tradition of success, and today he joins us on the dais," Coleman said. "Congratulations, Ray – I look forward to working with you in the coming years."
Union Sportsmen's Alliance details its good work
One benefit free to all members of our union — sheet metal and TD alike — is membership in the Union Sportsmen's Alliance (USA).
Alliance Executive Director and CEO Walt Ingram joined the conference to discuss USA's ongoing relationship with SMART — the fourth-largest union affiliate of his group.
Ingram described the USA's events, which include dinners, 25 clay shoots around the nation and environmental restoration projects designed not only to provide an opportunity for union camaraderie, but also as a way to bring families and communities alike together.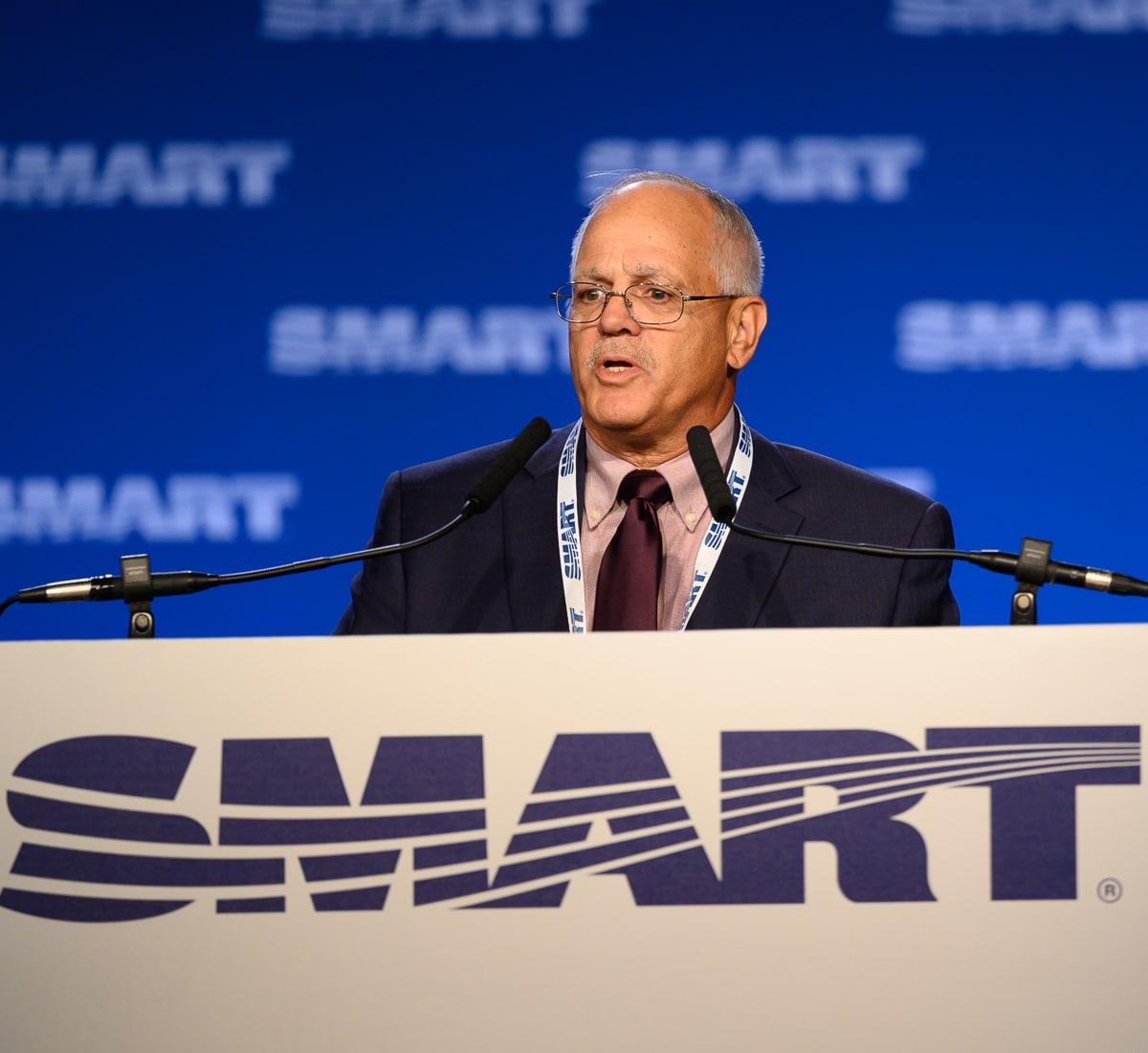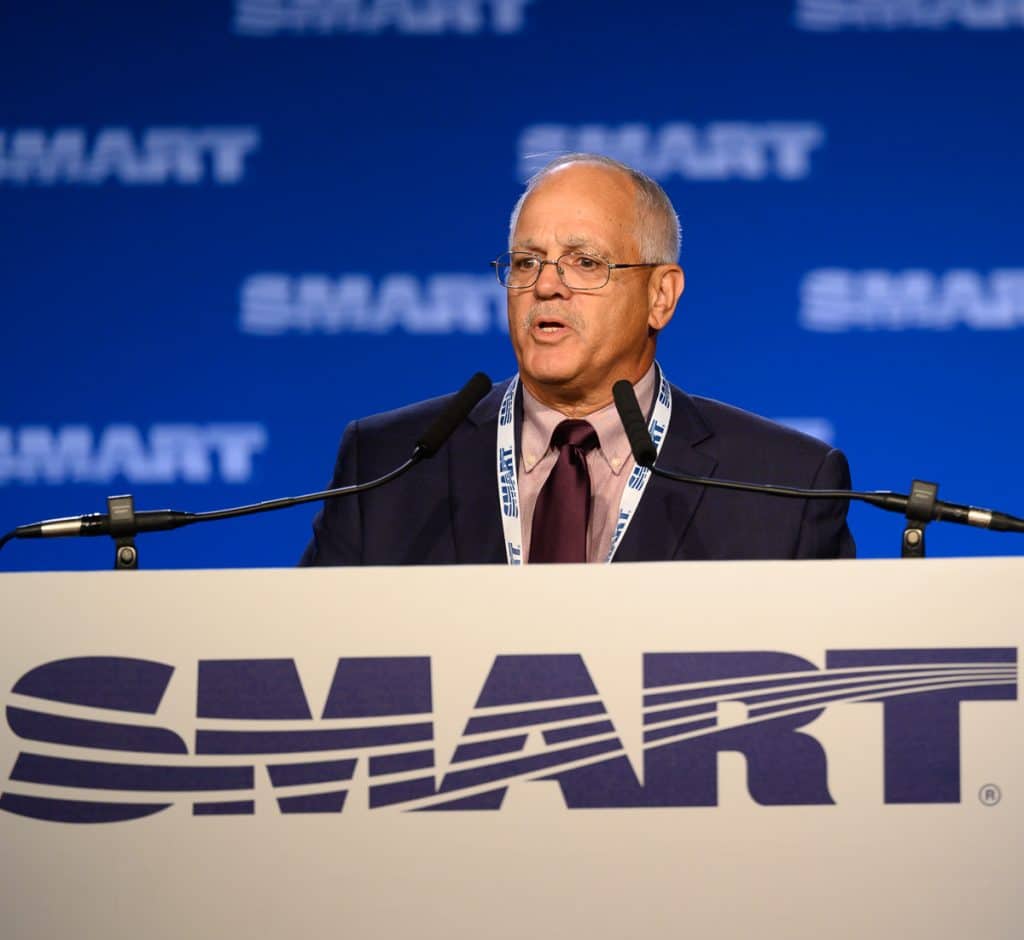 "We're a great tool to connect the local to the membership and then the membership to the community," Ingram said, noting that SMART sponsors a pair of shoots in Port Republic, N.J., and Brighton, Colo. "Our mission is to unite the union community through conservation to preserve North America's outdoor heritage. We do that every day in a variety of different ways. We want to help you recruit apprentices for your program and also join the Union Sportsmen's Alliance."
AFL-CIO president speaks
AFL-CIO President Liz Shuler, who has worked closely with SMART on issues ranging from green energy jobs to pension security, was unable to join the conference in person. She sent remarks via video, in which she discussed the importance of the conference theme: This is our time.
"What a perfect way to capture the moment we are in and the urgency that we should feel in taking advantage of it," she said. "This is our time. This labor momentum that you hear people talking about — you're living it every day."
Shuler reminded attendees that 71 percent of Americans approve of unions — the highest level since 1965.
"We are finally seeing huge gains in the battles we have been fighting for years. Now the question is, how do we build on these wins and create even more power for workers?" she asked.
The organizing and solidarity displayed by SMART as TD members' efforts secured paid sick leave and two-person crew victories in Ohio, Minnesota and Kansas will serve as examples to follow in the future, as workers fight to have a say and profiteers try to use tech, automation and AI to eliminate people's jobs.
"Unions are going to rebuild this country – SMART members are going to rebuild this country!" she concluded. "We have a lot of work ahead of us, but I can't think of anyone I'd rather fight alongside than the activists and leaders in this room."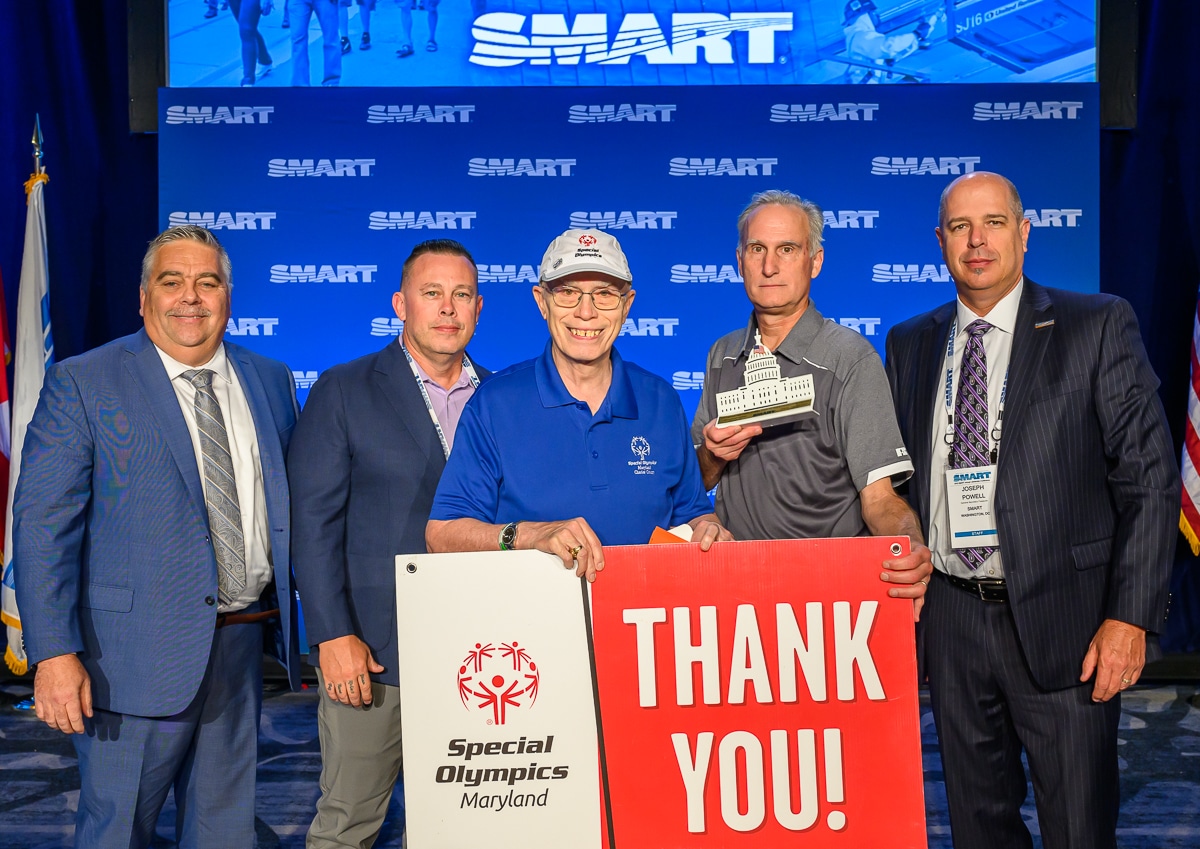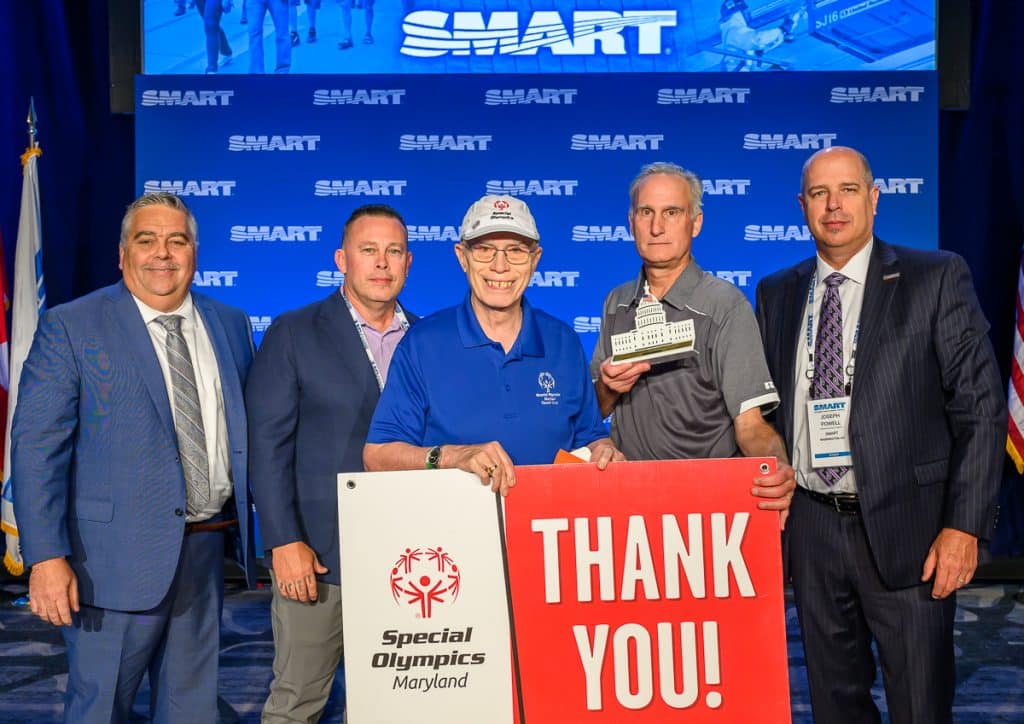 Supporting Maryland Special Olympics
Representatives of the Special Olympics of Maryland (SOMD), the designated charity of the Leadership Conference, talked about the importance of its work. Providing year-round sports training and athletic competition for children and adults with intellectual disabilities, SOMD gives participants the opportunity to develop physical fitness, demonstrate courage, experience joy and share their gifts, skills, and friendship with others.
"It is because of the dedication, compassion and love of the people from the Special Olympics community, and organizations like yours, that awareness and understanding is helping people to see that the intellectually disabled community is no different than those who are not," said global Special Olympics representative and coach Tim Gowen. "We are capable, hard-working and have dreams, just like anyone else."
Gowen has been part of the Special Olympics for 50 years, growing up in Silver Springs, Md., and through the program, eventually found supportive schools and communities.
"It changed my life and gave me the tools to succeed. … Having the opportunity to play and compete in sports is wonderful, but that's not all we experience.," Gowen said. "It's the friendships I have made over the years, the companies and the communities that support us.
"I would like to thank you, the members of SMART," he concluded. "It is amazing to play sports and win medals, but that wouldn't happen without the generosity of people like you."
Legislative leaders report
SMART Director of Governmental Affairs Steve Dodd and TD National Legislative Director Gregory Hynes took the stage to deliver a report on legislative and government affairs.
"Never in my life would I have ever thought that we would have the opportunity to be on offense the way we are right now," Dodd said, noting that SMART has worked with federal agencies to implement a pro-labor regulatory agenda and provide funding for projects that will employ unionized workers.
In short, the Biden administration has delivered for SMART members, he said, and local unions have a great environment to take advantage of and spread the message of the progress labor has made.
"This administration's been great for us, as you could see from the administrator of FRA being here yesterday," Hynes said.
His report detailed the Transportation Division's agenda, with two-person crews, Class 1 certification programs, train length and blocked crossings, bus and transit operator assaults, yardmaster hours of service, sick leave and more on the list.
Progress has been made on many of these areas at the state level, including rail safety, train length and blocked crossing legislation, he said.
SMART-TD has leveraged the extensive media attention given to railroads from the national contract negotiations and the East Palestine, Ohio, disaster to make real gains across the country, meeting with lawmakers and introducing legislation that protects members.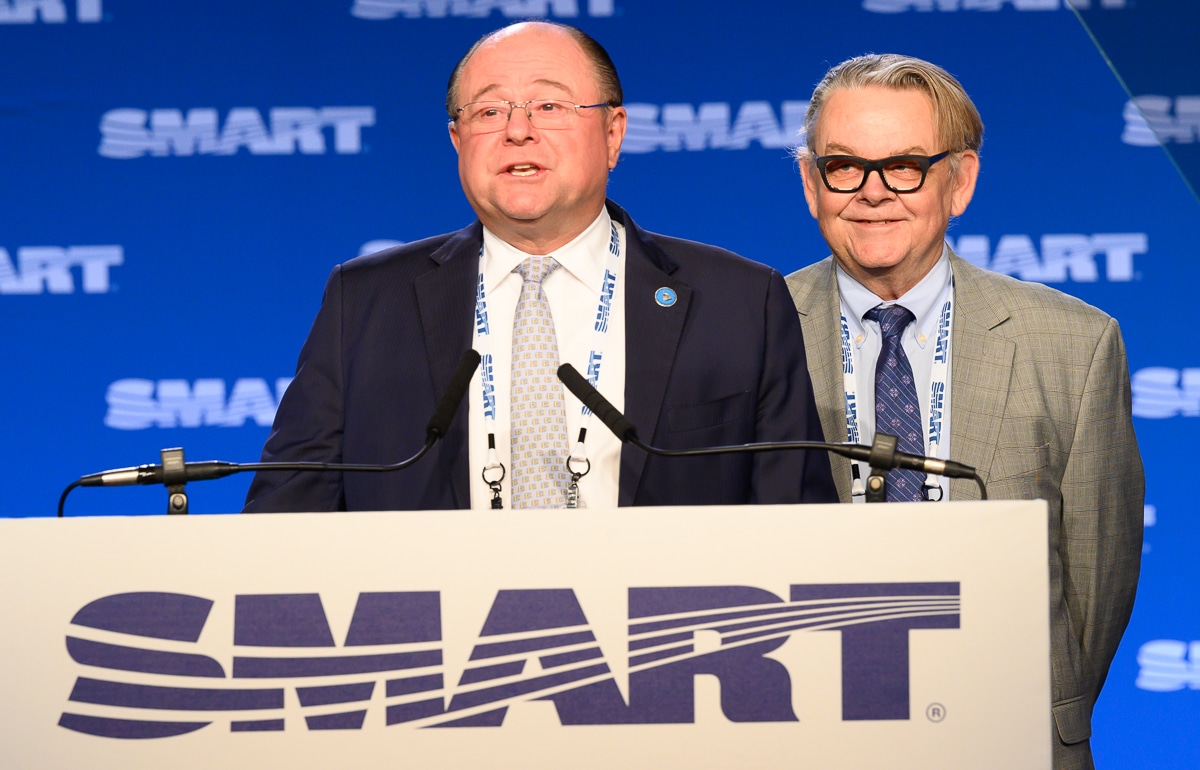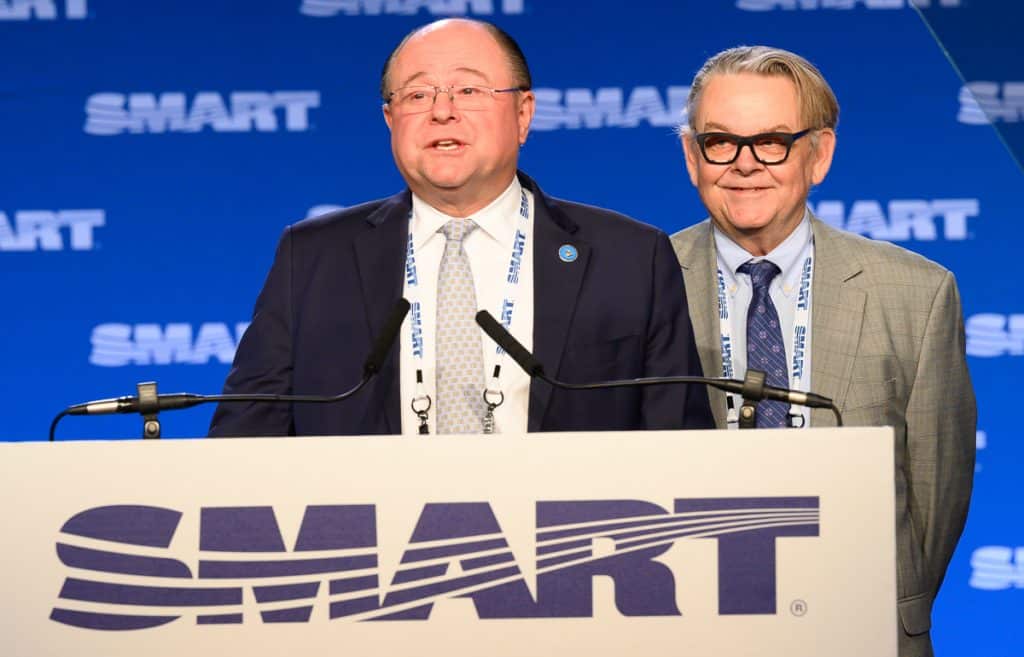 "We've fielded more media than I have ever seen in my entire career," Hynes said. "Jared [Cassity, SMART-TD Alternate Legislative Director], Jeremy [Ferguson, SMART TD President] for a period there, we were doing several interviews every day with affiliates all over the country — major networks, newspapers, the major news publications. What it did is put us in the mind of the general public, and members of Congress were very interested to talk with us."
Dodd and Hynes both detailed SMART's 2023-24 get-out-the-vote strategy. In 2023, three governor's races in particular are of interest to our union. Turning their eyes to 2024, control of the U.S. House, Senate and presidency will be determined.
They both said that improving voter turnout and making sure members know which elected officials and policies truly support us – and getting members out to vote – are going to be key goals moving ahead.
Finances, DOE secretary and SASMI presentation
Controller Warren May said that the rough financial period the union weathered due to the pandemic has passed, saying that finances all around the union are moving in a positive direction.
"If any accountant saw this, they would say, 'Oh my gosh, those are fabulous financials,'" May said.
Department of Energy Secretary Jennifer Granholm, former governor of Michigan, also delivered her speech via video. Granholm, who has used her position in the Department of Energy to advocate for good, union, clean energy jobs, met recently with both General President Coleman and NEMI Administrator Lisa Davis – affirming the Biden administration's commitment to working with SMART and organized labor.
"Unions built the middle class, you know this. Unions run best-in-class training programs, for construction workers," Granholm said. "Unionized employers have an easier time hiring because workers want union jobs, and that's why our incentives require companies to pay prevailing wage, require them to hire registered apprentices. That's why we attach strong labor standards to every single federal law."
Ken Columbo followed with the rundown of SASMI's programs, noting an explosive growth in the use of an improved travel benefit in the first quarter of 2023 compared with the same period the year prior – all due to Biden-Harris administration and infrastructure projects coming to fruition in the form of megaprojects.
A maternity benefit also has received a good reception, Columbo said, and also growing is the newly introduced HRC benefit card that participants can use to pay for prescription and over-the-counter medications.
SASMI also has extended COBRA benefits to the spouses of deceased members to 18 months and remains in solid financial health after a decline due to the pandemic.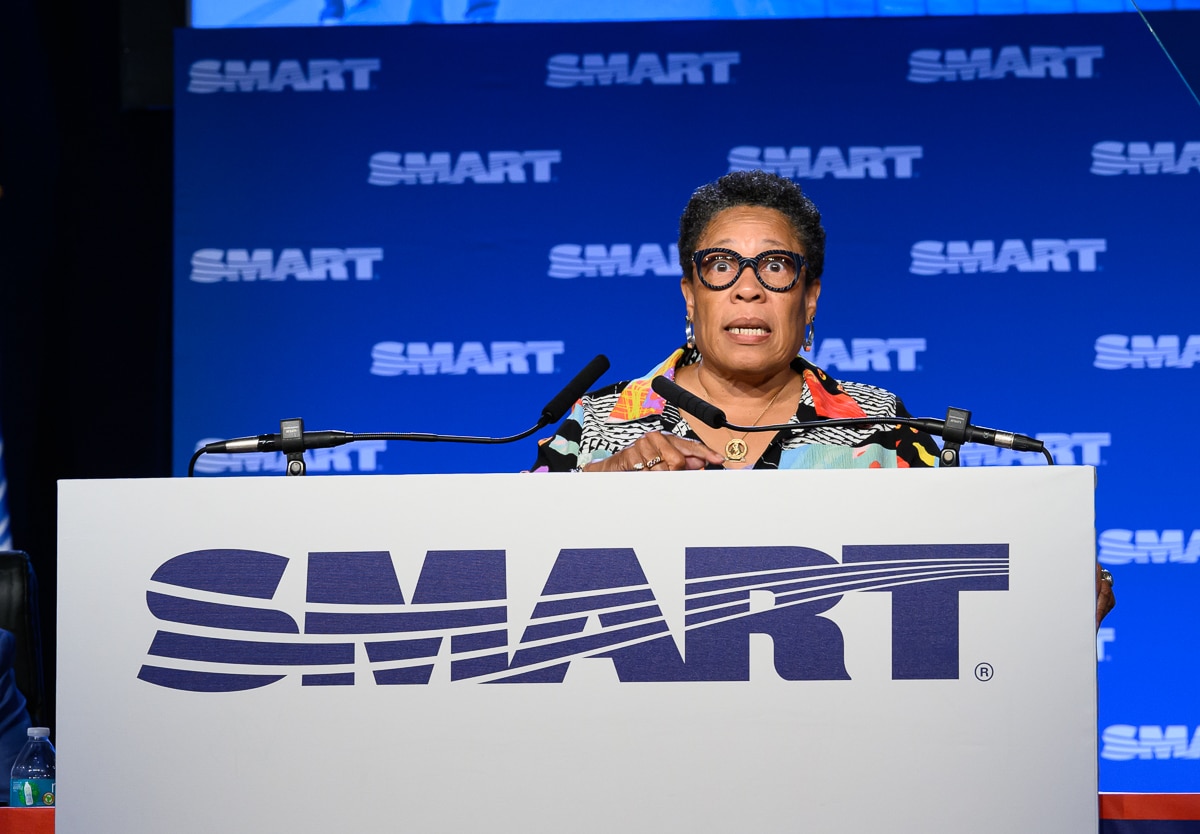 HUD secretary: SMART needs to lead the way
Department of Housing and Urban Development Secretary Marcia L. Fudge closed out the session with a message encouraging SMART to continue to educate newer generations about the value of the labor movement and to maintain its position as a leader as the nation's economy continues to transform.
Secretary Fudge has a long history with GP Coleman from their time in Cleveland — when Coleman was president of Local 33 and Fudge was a civic leader, first as mayor of Cleveland suburb Warrensville Heights, then as a U.S. representative for Ohio's 11th congressional district.
She described the progress the Biden-Harris administration has made in constructing an economy from the bottom up and from the middle out.
"As the president often says, 'The middle class built America, but the unions built the middle class.' I never thought I would ever get to a point in my life where we would have to explain to people why unions are important," she said after recounting the benefits that unions have brought to the working class — the 40-hour work week, overtime pay, pension plans and the weekend being among them.
The Biden-Harris administration's actions have launched a period of economic growth through its signature infrastructure law, creating 13 million jobs thus far in the United States, with an expected growth rate of 1 million additional jobs per year, she said.
SMART members will be a huge part of these projects: operating energy-efficient buses and trains and performing energy-efficient retrofits to older houses, HVAC systems and other programs that her department oversees, Fudge added.
"These projects do not happen without skilled technicians or skilled tradesmen like you," she said. "Because I know that with you, there is not much that we cannot do. We cannot build this country without you, so work with us.
"Let me tell you what. You have a hammer. You need to use your hammer to hammer a warning about where we're going in this nation. You need to use your hammer to take the lead in support of American workers. You can hammer out injustice if you just raise your voice," Fudge said. "We all have the right to the American Dream. I'm saying to you, SMART, hammer it out!"